Reformation Platform Discipleship Institute is a training for church members, new converts, church leaders, believers, everyone and anyone who is hungry, thirsty, and desirous to know the LORD and grow in their relationship with Him.
The training, which holds again this year, from August 10th – August 14th, will feature the following courses:
Process Of Salvation
Four Enemies Of Godliness
How To Study The Bible
Understanding Prayer
Discipleship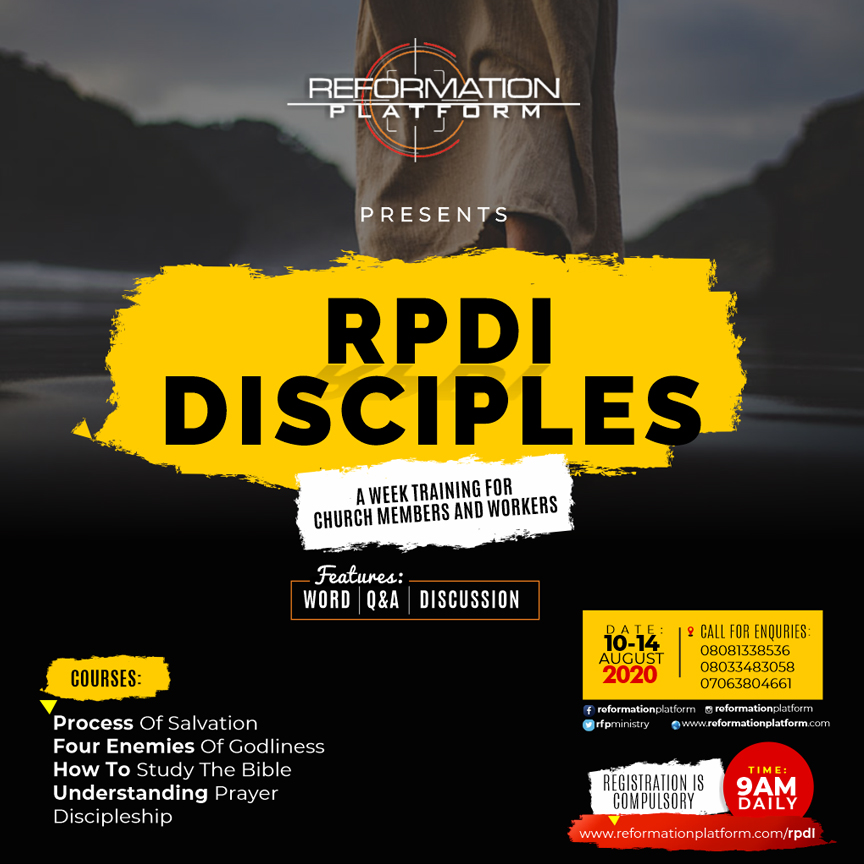 Please fill the form below to register for the meeting. You will be notified of meeting updates before and will be followed up with other spiritual growth helps after the meeting has ended.
Personal/Spiritual Information
[contact-form subject="Feedback on Reformation Platform website"][contact-field label="Name (in full)" type="name" required="1″][contact-field label="Address" type="text" required="1″][contact-field label="Occupation" type="text"][contact-field label="Date of Birth" type="text"][contact-field label="Age" type="text"][contact-field label="Phone Number" type="text" required="1″][contact-field label="Marital Status" type="select" required="1″ options="Yes,No"][contact-field label="Email Address" type="email" required="1″][contact-field label="Are you saved or Born Again?" type="select" required="1″ options="Yes,No"][contact-field label="If YES, when was it?" type="text" required="1″][contact-field label="Are you saved from Sin and its Eternal Consequences?" type="select" options="Yes,No"][contact-field label="What is the basis for your assurance (state briefly)?" type="textarea"][contact-field label="Are you baptized in the Holy Spirit?" type="select" options="Yes,No"][contact-field label="If YES, when was it?" type="text"][contact-field label="What%26#039;s the proof you%26#039;re baptized in the Holy Spirit (state briefly)?" type="text"][contact-field label="Do you have a growing relationship with the Lord Jesus?" type="select" options="Yes,No"][contact-field label="If NO, do you desire to?" type="select" options="Yes,No"][contact-field label="What do you hope to achieve from this training? (Give detail)" type="textarea"][contact-field label="Will you be ready to attend all classes, do all assignments and projects, and obey all instructions given for the duration of the school?" type="select" required="1″ options="Yes,No"][contact-field label="Do you desire to continue your learning and growing as a disciple of the Lord Jesus Christ in one of our fellowship centres after the school closes officially?" type="select" required="1″ options="Yes,No"][contact-field label="Attestation: I hereby attest to the validity of all the personal and spiritual information I have supplied herein and agree to an immediate cancellation of my registration should any of them prove false. I also promise to be punctual and to abide by the rules of the Bible Institute." type="checkbox"][/contact-form]